Homes in Broomfield, Colorado
Broomfield, located northwest of downtown Denver, is one of the most desirable communities in the metro Denver area. The city was voted the 18th Best Place to Live in the U.S. by Money.com and Money Magazine. Broomfield has a strong local economy, outdoor living amenities, and access to nearby metropolitan areas, including Boulder.

Broomfield's convenient location attracts people seeking a suburban feel with an easy commute to Denver, with an average drive time of 25 minutes. The city was planned with a balance of residential and commercial land use, with tons of open space, parks, and natural areas. Broomfield features more than 8,000 acres of open space, 280 miles of trails, multiple golf courses, and it offers a convenient drive to numerous ski resorts to the west and Rocky Mountain National Park to the north.

Fun venues include the Paul Derda Recreation Center which includes a climbing wall and an indoor water park with a swimming pool, kiddie pool, slides, and tube rides. First Bank Center is a state-of-the-art entertainment venue that can seat 6,500 concert goers, and has hosted top national performing artists, UCF Fight Nights, circuses, rodeos, conventions, truck races, and several additional attractions.

The Broomfield area is home to well-known local breweries such as 4 Noses Brewing Company, Rails End Beer Company, Big Choice Brewing, and the Westminster Brewing Company. Also, Flatiron Crossing is the largest shopping center with more than 200 retail shops. Several large tech companies are located in Broomfield, including Vail Resorts and Level 3 Communications. The community has a healthy mix of local businesses and smaller start-ups that help drive Broomfield's robust economy.

Among Broomfield's numerous neighborhoods is The Broadlands, a mixed-use, master-planned community featuring a magnificent golf course and outstanding recreational amenities. Anthem Ranch and Anthem Highlands are neighboring communities, including Colorado's first-ever age-qualified community for the 55-and-over crowd.
List of Zipcodes
| Zip Code | Zip Code Name | Zip Code Population |
| --- | --- | --- |
| 80020 | Broomfield | |
| 80021 | Broomfield | |
| 80023 | Broomfield | |
Demographics
| | Zip Code | City | County | State | National |
| --- | --- | --- | --- | --- | --- |
| Population | 4,270 | — | 585,026 | 5,759,582 | 331,426,769 |
| Population Density | 49.4 | — | 765.5 | 55.5 | 93.8 |
| Percent Male | 49.0% | — | 50.0% | 49.0% | 49.0% |
| Percent Female | 51.0% | — | 50.0% | 51.0% | 51.0% |
| Median Age | 50.8 | — | 42.6 | 40.2 | 39.0 |
| People per Household | 2.6 | — | 2.47 | 2.8 | 2.6 |
| Median Household Income | $106,904 | — | $80,305 | $115,942 | $61,963 |
| Average Income per Capital | $52,013 | — | $42,520 | $50,725 | $33,235 |
Market Data
| | Zip Code | City | County | State | National |
| --- | --- | --- | --- | --- | --- |
| Median Sale Price | $725,000 | — | $475,000 | $425,100 | $277,796 |
| Median Age of Home | 37.0 | — | 53.0 | 39.0 | 49.0 |
| Homes Owned | 86.0% | — | 68.0% | 67.0% | 58.0% |
| Homes Rented | 10.0% | — | 28.0% | 23.0% | 31.0% |
| Homes Vacant | 5.0% | — | 5.0% | 4.0% | 11.0% |
Market Trend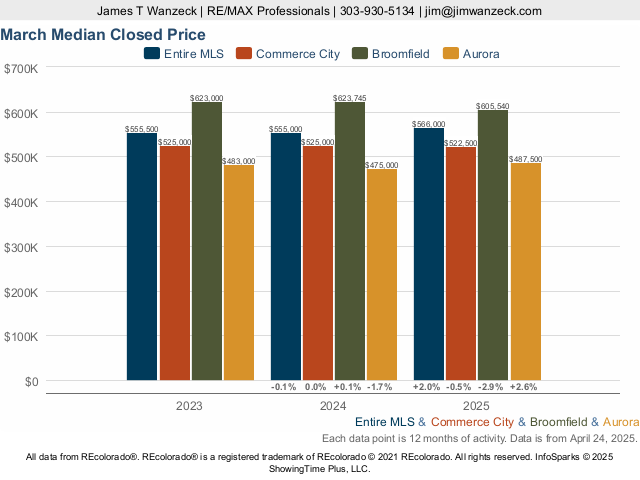 137 properties on market
Contact Us
RE/MAX Professionals
6020 Greenwood Plaza Blvd #100
Greenwood Village, CO 80111, USA
Valuation Index
Quality of Life - 90%
Climate & Environment - 75%
Schools & Education - 73%
Safety & Crime - 17%
Walk Score®
Schools & Education
Safety & Crime
Zip Code
City
County
State
National

Violent Crimes

Calculated annually per 100,000 residents

Assault
162.9
—
255.9
246.3
250.2
Murder
2.2
—
2.8
3.8
5.0
Rape
70.4
—
68.3
67.2
42.6
Robbery
123.3
—
51.7
63.6
81.6

Property Crimes

Calculated annually per 100,000 residents

Burglary
223.7
—
425.3
348.4
340.5
Theft
360.4
—
641.0
1,858.3
1,549.5
Motor Vehicle Theft
603.0
—
125.9
384.0
219.9
Take a photo of this QR code
to keep this website details